How to Find a Therapist
It should be no surprise that millennials suffer from anxiety at an unprecedented rate.
The American Psychiatrist Association reported that 12% of millennials have an officially diagnosed anxiety disorder, almost double the rate of our parents' generation.
Other studies have found that 30% of working millenials have been classified with general anxiety.
We are constantly comparing ourselves to others, largely due to social media, so these statistics absolutely make sense. Millennials, with Gen Z not far behind, have become the therapy generation. As life gets harder with more pressure coming at us in every direction – more and more people have been seeking out therapy to help deal with life's issues and complicated moments.
Many of our parents would scoff at the idea of therapy, but we are destigmatizing the practice. We are making it a normal aspect of life, integrating it into our weekly routine, and wanting to talk about it openly, just as it should be.
A lot of people think you only need to see a therapist if you suffer from a mental illness, but I want to tell you that is wrong. You don't need to have an underlying medical condition in order to justify wanting to have one. Therapists are there to make your life better, you can talk through your past traumas and how your parents f*cked you up for life or work on breaking bad habits and identifying problem areas using real life examples where you can improve upon. Therapists help you become the best version of yourselves and who wouldn't want that?
What Brought Me to Therapy
For a large chunk of 2018, I wrestled with the idea of seeing a therapist. I had never been before, but I realized I was not equipped with the correct tools to combat my anxious feelings- along with other personal issues. My usual tips and tricks no longer seemed to work, which only led to more frustration.
To be real here, it definitely was a tough decision to seek the counsel of a therapist. I am embarrassed to say that I fell victim to the stigma surrounding mental health and the importance of it. I felt ashamed that I wasn't able to hack this part of my life by myself, especially since I seemed to have been able to do so in the past. I knew that mental health is probably one of the most important aspects of one's health, but I wasn't ready to accept that I needed a third party to help me get my mental agenda together. Because of this, I kept saying that I was interested in seeing someone, but in reality I didn't even look anyone up or think about it except in passing.
When it was time to come back to the city after the holidays I was super anxious and dreaded returning to all of the issues I had been facing pre-holiday time. It was at that moment when my mom knew something wasn't right. I didn't want to eat and didn't want to return to a place that I love.
That was when I decided to make my mental health a priority in the new year.
Here's how I took the leap, and what I learned along the way to finding my mental health professional.
1. Finding a Therapist: Where Do I Even Start?
As soon as I got back from holiday vacation I consulted my best friend, Google, to see how or where I could find the best therapist for me and my needs. I obviously had no idea where to even start.
I didn't know what I should be looking for in a therapist, what type of therapy was best for me, or really anything. I was a therapy newbie, and I immediately felt overwhelmed by all of the options my Google search spewed out. Everyone told me this, that, and the other about what I should be looking for in a therapist, but I was unsure if I would feel comfortable enough to tell a complete stranger with a few letters after his or her name about all of the inner workings of my brain.
After scouring the internet for a few hours, here are some of the resources I found to be most helpful when trying to make this important and personal decision:
If in-person therapy isn't your style I also included some virtual options, below, that make great alternatives.
I knew before going in that finding a therapist is kinda like dating: it has to be a good match in order for it to really work. This search process isn't like trying to find a dentist, you really have to take the time to research and interview them to know if they will be right for the job, especially because you'll be paying for it. This means that it takes a little bit of shopping around before really settling on the chosen one.
We Met at Acme
I have been an avid listener to the WMAA podcast ever since I moved to the city. The host, Lindsey Metslaar, constantly talks about millennial dating, astrology, and her experiences in therapy and how it is a form of self care. She's even had her therapist on as a guest and regularly provides a therapist's opinions for her poll questions. You can listen to her podcast here.
On the podcast's Instagram page there are a number of highlights recommending therapists in a wide variety of cities including NYC, LA, SF, Seattle, Toronto, Cleveland, Nashville, and Philly just to name a few. All of these therapists have been recommended by her listeners.
As you can see from her roundup, people across North America are seeking the help of mental health professionals and are willing to share their new confidants with someone who may need it.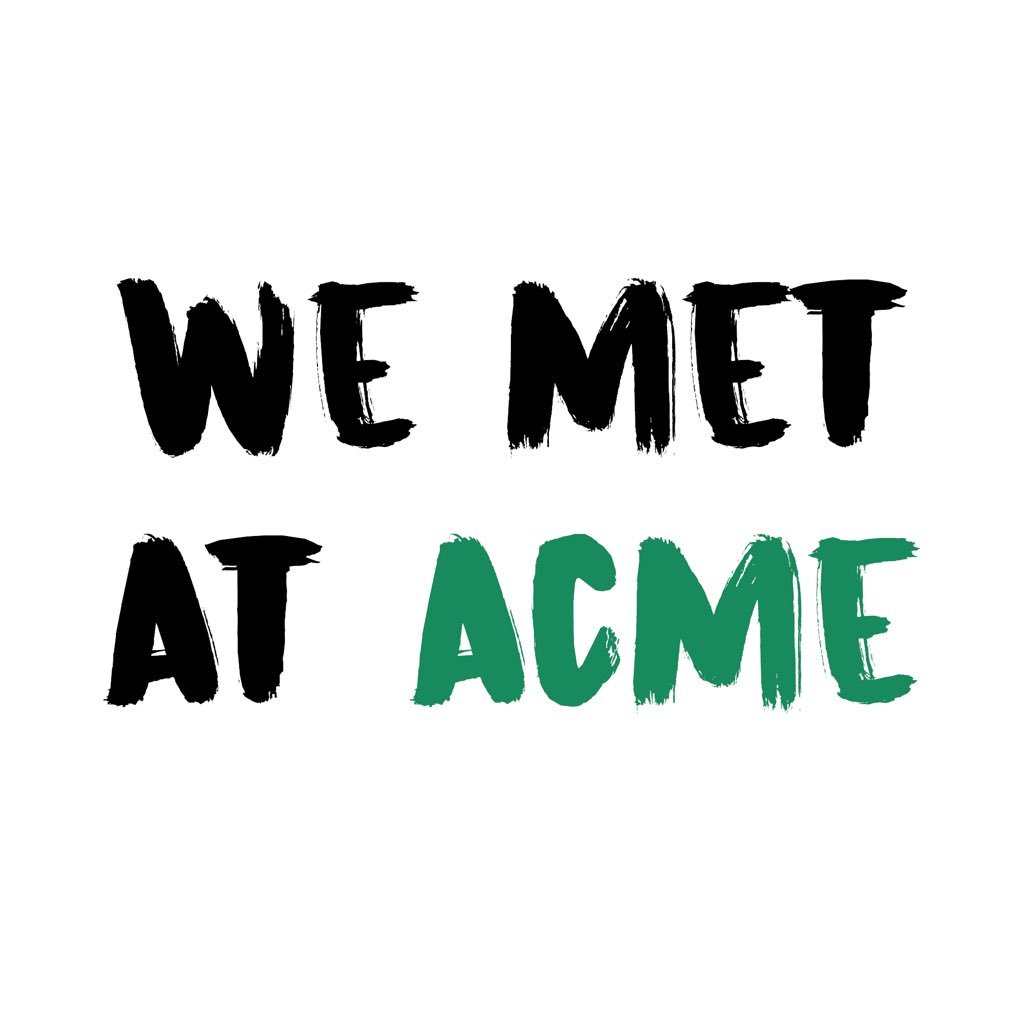 Health Care Provider
If you are looking to get your therapy session covered by your health insurance, utilize the professionals listed in your provider directory. I found that most therapists are considered out of network because of the convoluted process health insurers make therapists go through to get coverage.
Of the therapists listed, you'll most likely have to pay a copay depending on your plan's deductible. The healthcare provider option is great considering therapy can be expensive af. Most sites give you a comprehensive list based on distance with different specializations along with client reviews. I personally did not utilize this service as much as I should have when looking back on my own personal journey.
**Life Hack Alert** Even when you are paying out of pocket for a session (not covered by insurance) you can seek reimbursement from your health insurer for a large percentage of what you paid, usually around 70-75%.
Talk to your therapist about his/her reimbursement process and at the end of each month they can send you all of the information you need to file a claim online. It is super easy, and within a few weeks you will receive a reimbursement check. Most health insurer's mental health policies vary, along with the out-of-pocket maximum so please consult with your health insurer to find out more information.
My Wellbeing
If you're in the NYC area, MyWellbeing.com is kinda like a love matchmaker, but instead of getting a potential partner, you end up with a mental health professional (MHP). It is a service that matches you up with a licensed mental health professional (psychologist, LCSW, psychiatrist, etc.) based on a FIVE MINUTE questionnaire.
That's it.
Five minutes is all it takes in order for you to potentially find your new mental health bff.
Some of the questions asked include:
Preferred gender and age of counselor
What issues you are seeking therapy for
Neighborhood of choice
(Most importantly) How much you're willing to pay per session.
Like I said, since almost all private practices are considered out of network by your provider it's important that you're able to afford the services you're seeking. As a freshly minted adult with a lot of expenses and a marginal net income, this is probably one of the most important questions, because -like anything good- you're going to have to pay for it. Selecting a range you are realistically able to pay for, allows you to factor this new cost into your monthly budget.
Also, if you're realistically unable to spend a certain amount of money on your weekly sessions, you are not only wasting your own time, but also that of the therapist and any other potential clients that wants your 60 minute time slot.
If you do not end up liking your first match, MyWellbeing is super accommodating and will assist you in finding a few more that fit your needs based on the questionnaire.
Virtual Options
Other options that should not be excluded from this conversation are Talkspace and Betterhelp, both online mental health counseling tools. Both have questionnaires that will match you with potential therapists and are great alternatives if you do not have access to a counselor due a limited budget or geographic limitations. If you are uncomfortable sitting down face to face or do not have an entire hour to dedicate to a session this could be the solution you've been looking for.
The prices range from $40 to $80 per week, with the added benefit of being able to talk to your MHP anytime of day, over the secure messaging apps. So if you're in dire need of advice or on the verge of a nervous breakdown, you can simply reach out to them and get some help on the spot. But seriously, if you are suffering from a nervous breakdown, panic attack, depression, or episode, please contact a crisis help line 1-800-273-8255, 911, or text HOME to 741741 to speak with someone who can help.
2. Choosing Some Potential Therapists
Once I had opened up about 20 tabs to look at different therapists, I was able to dwindle down the list a bit. I paid special attention to:
What type of therapist: psychologist, psychiatrist, LCSW, or counselor*
What type of therapy do they provide*
Which "problem" areas they specialize in
Location
Education
Licensing
*Since I am not a mental health professional, I cannot accurately describe the different therapy types nor legally recommend a type of therapist. Here are some resources for different types of therapy and therapist types.
I took a look at each of their websites and pyschologytoday.com biographies in order to read about them further and to find any patient testimonials. This enabled me to further dwindle down the list to about five therapists total (four from WMAA and one from MyWellBeing.com).
After you figure out who you think you make like, it is imperative that you schedule an initial consultation with your prospective mental health professional.
3. Initial Consultation
An initial consultation is a brief, but insightful 15-minute phone conversation between the two of you to see if it's going to be a good match. An initial consultation is like a first date over coffee. Short, brief, and informative.
These consultations should be free, and you can usually get a good sense for whether or not you want to pursue it further and meet in person. Remember, this is a service you are paying for, so you should take total advantage of this opportunity to run through any questions you may have prior to going to their office.
***Most importantly*** you should always ask the MHP if they are taking new patients and what their availability is!! If they aren't taking any new patients then you can simply end your conversation there and cross them off of your list.
Here are some suggested questions you should have for the therapist:
What areas do you specialize in?
What type of therapy do you practice? Cognitive Behavioral Therapy, Human Interpersonal Therapy, etc.
What is your weekly availability, at what times, and where is your office located? If you work 9-5 and they only have a Tuesday at 11 am open in midtown, when you work in SoHo, then that's just not going to work for you.
How much does a typical session cost and is it covered by insurance/can I seek reimbursement? The cost of a session can vary depending on the city. For example, one session in New York City can easily cost above $200, meaning you now have a new $800 monthly expense if you go weekly. Many therapists are willing to work with you on price, but be mindful that some may not be. Do not feel afraid to turn down a therapist because they are out of your price range. For reference I pay around $100-$125 per session in New York City, but I was very open about my budget in my Wellbeing form
Do you accept payment on a sliding scale? Betterhelp.com gives a better explanation of this than I ever could!
What is their style for a session? Do they give you feedback? Is it more direct and interactive? Are they leading the sessions or are you? Or is it more of a quiet listen, nod their head, and say "So how does that make you feel?" situation?
Do they make weekly goals or give you homework to work on in between sessions? Basically what kind of tools will they give you to succeed outside of your session in order to push your growth in a healthier direction.
Do they have a cancellation policy? We all know that life can sometimes get in the way, but most therapists will still charge your credit card if you are a no show or cancel the day of. You want to know their cancellation policy.
I found the initial consultation to be a great way to measure the possibility of a future relationship. You can tell a lot about someone from how they answer their phone and introduce themselves. They also, obviously, asked me questions in return about the services I am seeking, and why I am seeking them now. Just standard stuff really.
I took notes on each of the calls, and made sure to look up any unfamiliar terms afterwards so I fully understood what they were offering. I scheduled three initial consultations just to get my feet wet in this different type of shopping experience.
The first was the therapist from My Wellbeing so I was hoping it was going to go well – since an algorithm matched us up. I was definitely really nervous on the phone and probably rambled on a little bit, but overall it was a pretty solid 15 minute conversation. I had her email some scheduling information so I could see when her availability was to match up with my schedule. I knew I wanted her the entire time, but I wanted to compare with some of the others that I found.
The second one had great credentials, but I did not like her voice and she was WAY out of my price range. The third one did not have any availability that matched my schedule, so I was kinda bummed about that. But she actually recommended the second one to me, which I thought was funny.
4. Selecting a Therapist: The Final Rose
Obviously, I chose the first therapist that I spoke with, because I felt like My Wellbeing was set up for this purpose. If they didn't have a high success rate, the company would no longer be in business. Plus, I just thought our initial conversation was the best, and she had everything that I was looking for – her office was in a convenient location, the price point was right, and she had the right availability for my schedule.
After finishing up my last phone call I emailed my new MHP of choice to let her know that I would like to pursue this new relationship with her. She immediately forwarded her availability for the next week, along with new patient paperwork. I was also sure to confirm the agreed price of each session.
5. Seeing a Therapist
If you go to your first session and you find that it is not a match, that is totally okay. Not every therapist that you thought would work out does, so just go back to the drawing board.
In the beginning, definitely make a consistent habit of attending weekly, because that is the only way that you're going to make progress and tackle your issues. It will soon start to become your favorite hour of the week where you can cry without judgment (and most importantly, not on the streets).
Congratulations! You Did It!!
This is now your safe space to talk about you, your family, friends, work, significant others, or anything else that may be creating clutter in your mind. You never really know how awesome it is to talk to someone who has no first-party opinions (aka your mom) and is just there to listen to you and give you advice. This is an investment in yourself and if you keep it up and listen to them (within reason), then you will see a return of your hard work.
Do you have any other resources or tips for finding a great therapist? Do you have one you love and want to recommend? Leave a comment and share the love! 2020 is the year of self care and positive energy, so pass it on!